The Most Reliable Boat Transport
---
The safest, easiest and most affordable way to ship your boat or yacht.
Welcome to Yacht Transport Direct, the most reliable and reputable source for all your boat transport needs. We know that moving your specialty watercraft can be a daunting and intimidating task, but it really doesn't have to be. Select the company that has proven again and again how stress-free the process can actually be and be prepared to be impressed.
---
In the midst of a stressful or exciting situation, such as a last minute job transfer, or the opportunity for early retirement at your dream destination, dealing with moving your boat should be the furthest thing from your mind. That's why Yacht Transport Direct takes pride in taking the reins and taking care of business. You will be able to tell from your first point of contact that Yacht Transport Direct has a level of professionalism unparalleled by all others in the industry. Our customer service team is so knowledgeable and accessible; that you can feel safe knowing someone is there to competently answer your questions at all hours of the day.
---
Whether you need to get your jet-ski from Maine to New York, or move your yacht from California to Florida, we can do it all, without breaking the bank. We will gladly customize a package that adheres to your specific requirements, but also conforms to your personal budget. Our expert team of transport representatives will make sure that your boat or specialty watercraft is treated with the highest level of care from the moment it is in our possession until we safely deliver it at the final destination.
Or just give us a call! Our representatives are ready to answer your questions.
See for yourself why our services are award winning and industry leading!
How our customers rate us
Read more testimonials from our customers and see for yourself why we are rated as one of the top boat transporters around.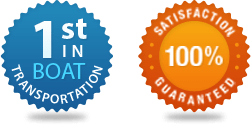 "We moved our yacht from California to Florida and didn't ever think it could be this easy."Bill & Joan Fredrickson
Read More Testimonials
Check out our blog
Read more about boat/yacht shipping on our blog. Get prepared and understand how to get the most out of your transport service.
Read More
Reasons why we're the best
Get the highest-quality boat transport service
Have the best customer service talking with real people
GPS enabled shipping lets us know exactly where your boat it at all times
Learn about boat transport with our wealth of online resources and articles
Save time and money with our easy transport at the most competitive rates